Ashley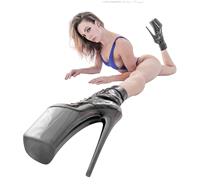 Ashley instructs the following:
After taking your Pearl classes, lean into the dance element of pole fitness. Pole'ography is a choreographed dance routine created by the instructor including intermediate spins, climbs, poses, floor work and dance transitions. This class is a fun wild card. The choreography may be fun and upbeat or slow and sultry, but in all cases, you learn to make the pole your dance partner and never miss a beat.

Instructors will have modifications and/or advancements for students as they see fit. Dance your heart out, Queen!




This class will teach students a choreographed routine using the chair as a prop. The routine can be anywhere from sexy and showy to lyrical and raw. Students find their own personal style as to how they interpret their relationship with the chair. Skill requirement: NONE. All levels welcome!




Feeling totally solid from your Beginner Series? Intermediate Pole class takes you deeper into the intricacies and technique of pole dancing. In this class you'll learn pole climb variations, how to conquer a pole that spins, and increase your power and flair in flow combinations with one handed spins and a variety of grips.