Liz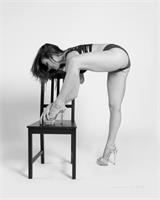 Liz instructs the following:
Whether you've just recently started your pole journey or you've been poling for a while, this conditioning class will rapidly build your strength to nail your favorite pole moves. This mixed level class pays close attention to body mechanics, pole technique, and conditioning drills. Taking Beginner Pole at least 3-5 times beforehand is strongly recommended.




Fly Gym is an aerial fitness system that utilizes comfortable, adjustable fabric slings suspended from the ceiling. It incorporates elements of aerial arts, yoga, and Pilates. This system is designed to help participants enhance their body awareness and core control, increase joint mobility & flexibility, strengthen both deep and superficial muscles, and enjoy spinal decompression. Skill requirement: NONE. All levels welcome!




After taking your Pearl classes, lean into the dance element of pole fitness. Pole'ography is a choreographed dance routine created by the instructor including intermediate spins, climbs, poses, floor work and dance transitions. This class is a fun wild card. The choreography may be fun and upbeat or slow and sultry, but in all cases, you learn to make the pole your dance partner and never miss a beat.

Instructors will have modifications and/or advancements for students as they see fit. Dance your heart out, Queen!




This class will teach students a choreographed routine using the chair as a prop. The routine can be anywhere from sexy and showy to lyrical and raw. Students find their own personal style as to how they interpret their relationship with the chair. Skill requirement: NONE. All levels welcome!




In this fast-paced class we raise the bar with very advanced inversions, spins, and tricks. This is the class to achieve your loftiest pole goals- from aerial splits to daring pole drops, take your pole journey to the max and see just what your body can do.

*Students should be familiar with the basics of spin pole and able to lift into an invert easily before joining this class. Approval from an instructor is required.